The U.S. Chamber of Commerce announced Mabbett & Associates, Inc. (Mabbett®), headquartered in Stoneham, Massachusetts, as one of the finalists for its annual 2020 Dream Big Awards. The Awards, presented by Chase for Business with support from MetLife, celebrate the achievements of small businesses and honor their contributions to America's economic growth.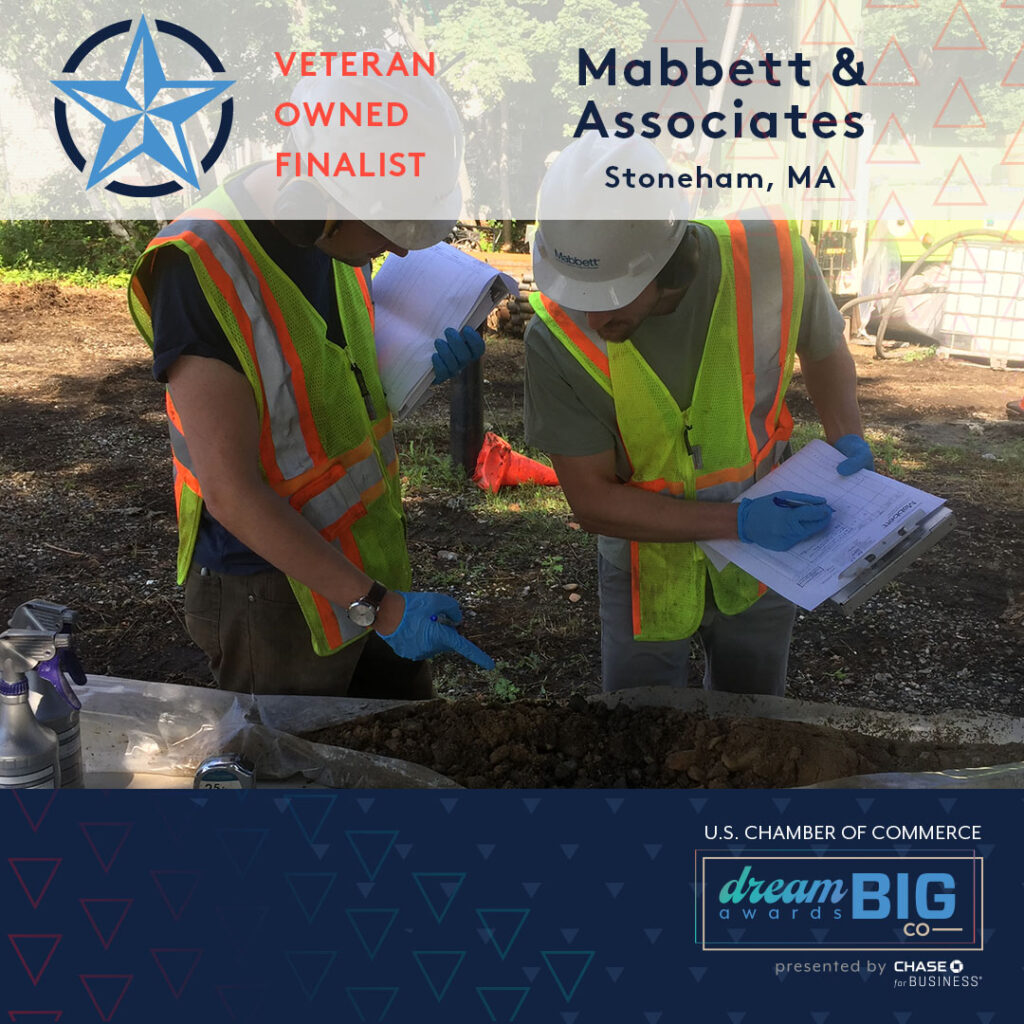 "Over the last several months, small business owners have faced challenge after challenge. Yet, despite these challenges small business owners never stop innovating, pivoting, taking risks, working hard, and dreaming big," said Tom Sullivan, U.S. Chamber of Commerce Vice President of Small Business Policy. "Small businesses are a critical and vibrant sector of the U.S. economy. The U.S. Chamber is proud to celebrate the very best in American small business through our Dream Big Awards." The Dream Big Awards program includes Business Achievement Awards to recognize excellence in eight categories and reflect the leading businesses in each of the following areas: community support and leadership, emerging, green/sustainable, minority-owned, veteran-owned, woman-owned, young entrepreneur, and small business of the year. This year's finalists were selected from a record-high number of over 700 applicants.
The Veteran-Owned Business Achievement Award recognizes the success of one small business and honors its contributions to the growth and diversity of the American economy. This award recognizes a veteran-owned small business that has attained outstanding business achievement and exemplifies contributions made by veteran-owned businesses in the country. Award winners will be announced at the virtual Dream Big Awards program on Thursday, October 15 at 2:00pm ET.
"On behalf of the entire Mabbett staff, we are extremely proud to be recognized by the U.S. Chamber of Commerce as a finalist in this year's Dream Big Award Program," commented Arthur N. Mabbett, Chairman & Chief Executive Officer. "For over forty years Mabbett has endeavored to not only serve our clients and community but also to help set an example of what small businesses do for the American economy. As a Service-Disabled Veteran-Owned Small Business (SDVOSB), Mabbett has a diverse staff which reflects a cross section of America as represented in the US Military. I am personally most proud of the accomplishments and success of our staff and I congratulate them on this honor."
For 40 years, Mabbett has delivered value-added environmental, health and safety consulting and architectural-engineering services to industry, commercial enterprise, and Federal, state, and local agencies. Mabbett is a U.S. Department of Veterans Affairs (VA), Center for Verification & Evaluation (CVE), verified SDVOSB headquartered in Stoneham, Massachusetts with regional offices in New York, Rhode Island, and Virginia. www.mabbett.com #
View the Dream Big 2020 Veteran Small Business Category Finalist Video below: