STONEHAM, MA (June 2021) Mabbett & Associates, Inc. (Mabbett®) is pleased to announce that Mabbett & Associates, Inc. (Mabbett ®) has been selected as a 2021 Best Firms to Work For Award winner by Zweig White (ZW), the architectural, engineering and consulting (AEC) industry's leading management firm.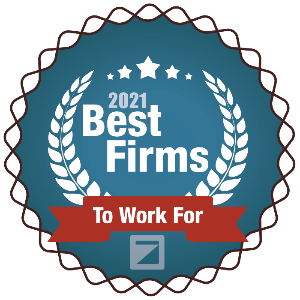 Mabbett was named to two award lists, the 50-99 Employee category and the Environmental Services Sector category, ranking #28 and #5, respectively. The program, which honors outstanding workplaces at AEC firms in the United States and Canada, evaluates them based on culture, workplace practices, employee benefits, employee retention rates, professional development, and more – from both management and staff perspectives. Awards were given in multiple categories based on firm size and discipline.
"We are most pleased to receive this prestigious award and recognition., I thank all Mabbett employees for their efforts to make Mabbett a Best Firm to Work For Award winner. We will continue our efforts to provide our staff with a quality work environment, enhanced benefits programs, and continuing career-professional development opportunities" stated Arthur N. Mabbett, Chairman and Chief Executive Officer.
For 41 years, Mabbett has delivered value-added services to industry, commercial enterprise and federal, state and local agencies. Mabbett is a U.S. Department of Veterans Affairs (VA), Center for Verification and Evaluation (CVE), verified Service-Disabled Veteran-Owned Small Business (SDVOSB) headquartered in Stoneham, Massachusetts with regional offices in Rhode Island, New York, and Virginia. www.mabbett.com