Proven Federal Prime Contractor
Mabbett, a US Small Business Administration (SBA) certified Service-Disabled Veteran-Owned Small Business (SDVOSB), has 42 years of corporate experience and 15 years of federal environmental, health and safety (EHS) consulting and engineering experience nationally.
Over the last 15 years serving countless federal clients, we have demonstrated both prime contractor program management and technical execution capabilities. Our performance has developed effective relationships with multiple agencies which is reflected in our strong CPARS ratings and repeat business. Mabbett brings an in-depth understanding of the EHS, sustainability, and engineering needs of federal agencies including the US Department of Defense (DoD).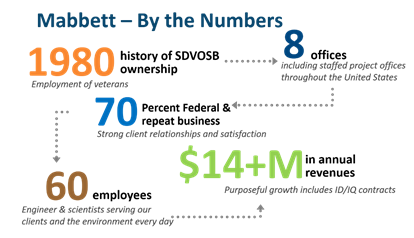 Awarded Over $62M in Prime Contracts from Multiple Federal Agencies
Army Corps of Engineers (and their Department of Defense customers)
Army Medical Command
Department of Energy
Department of Homeland Security
Department of Labor
Department of Veterans Affairs
Environmental Protection Agency
Federal Aviation Administration
Food & Drug Administration
General Services Administration
Government Accountability Office
Missile Defense Agency
Naval Facilities Engineering Command
Small Business Designation
Service-Disabled Veteran-Owned Small Business - US Small Business Administration Certified - The federal government has established a contracting goal of at least 3% utilization of SDVOSBs. Mabbett provides federal agencies and large businesses with a low-risk option that can help them achieve this important objective. Our veteran friendly firm has been a certified SDVOSB since 2009.
Service-Disabled Veteran Owned Business Enterprise by the Massachusetts Supplier Diversity Office
New York State Service-Disabled Veteran-Owned Business Certified
System for Award Management (SAM.gov)
Unique Entity ID - JACMATCH87S5
CAGE CODE 361J7
North American Industry Classification System (NAICS) Codes
541330 – A/E Services; 541611 – Administrative Management and General Management Consulting Services; 541618 –Other Management Consulting Services; 541620 – Environmental Consulting Services; 541690 – Other Scientific and Technical Consulting Services; 561210 – Facilities Support Services; and 562910 – Remediation Services
US General Services Administration – Multiple Award Schedule –
GS-10F-0120T

Contract Number: GS-10F-0120T
Contract Period: February 1, 2007 – January 2027
Business Size: Small Business
Contract Administrator: Paul Steinberg, PE, LSP, 781-275-6050 Ext. 306,
Steinberg@mabbett.com
Special Item Numbers (SINs): 541620 Environmental Consulting Services, 562910REM Environmental Remediation Services, 611430 Professional & Management Development Training, OLM Order Level Materials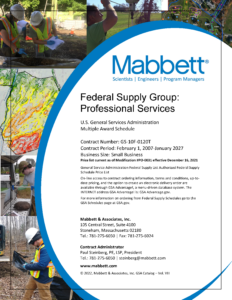 Credentialed & Experienced Staff
As a full-service environmental consulting, health and safety, architectural/engineering (A/E) design services firm, a significant strength is our ability to assign the right credentialed and experienced professional staff to projects. Mabbett has the technical and management resources and qualifications to self-perform program and task order management including subcontractor management and technical support elements. Our staff of over 60 professionals includes Professional Engineers (PE) in multiple states, Professional Geologists (PG); Certified Professional Geologists (CPG); Certified Industrial Hygienists (CIH); Registered Professional Industrial Hygienists (RPIH); Certified Safety Professionals (CSP); Certified Hazardous Material Managers (CHMM); Licensed Site Professionals (LSP); Licensed Environmental Professionals (LEP); Project Management Professionals (PMP); Leadership in Energy & Environmental Design Accredited Professionals (LEED AP); Certified EHS Trainers; and licensed Asbestos Inspectors, Project Monitors, and Management Planners in multiple states.
Representative Relevant Contracts
US Army Corps of Engineers (USACE), New England District – Hazardous, Toxic and Radioactive Waste (HTRW). Mabbett has held three consecutive five-year IDIQ HTRW contracts with USACE since 2010. Under these contracts, Mabbett has provided support of USACE's Formerly Used Defense Sites (FUDS) program by performing Comprehensive Environmental Response, Compensation, and Liability Act (CERCLA) compliant remedial investigations (RI) and feasibility studies (FS) at FUDS locations in Rhode Island, Maine, New York, and New Jersey. Mabbett has also supported hazardous materials surveys for Army Natick Soldier Systems Center, USACE Cold Regions Research & Engineering Laboratory and at USACE operational facilities along the Upper Connecticut River Basin. Mabbett has supported USACE in achieving no further action determinations at several project locations.
US Environmental Protection Agency (EPA), Regions 4, 5 & 6 – RCRA Enforcement & Permitting Assistance (REPA6). Mabbett has been a prime contractor to EPA since 2007, completing three five-year IDIQ support contracts for environmental site clean-up under EPA's CERCLA and RCRA Programs. Mabbett currently support EPA Zone 2 on REPA6 providing Corrective Action Program support, completing Brownfields investigations and delivering hazardous waste management training sessions at multiple locations throughout the Midwest and South.
US Department of Veterans Affairs (VA), Office of Construction & Facilities Management. Mabbett has supported OCFM providing a wide range of environmental and cultural resources support since 2010. We have delivered National Environmental Policy Act (NEPA) environmental assessments for new facility construction and major renovations across the Eastern United States. Mabbett has also provided environmental compliance support during construction activities, supported the investigation and clean-up of environmentally impaired properties, and performed hazardous materials surveys of medical centers in support of demolition and redevelopment.
VA National Cemetery Administration. Mabbett is performing Annual Workplace Evaluations (AWEs) nationwide at over 100 VA National Cemeteries annually. The AWEs are focused on occupational safety and health programs and compliance with OSHA requirements. Reports are prepared following each assessment which provides recommendations for correcting findings identified.
US Missile Defense Agency (MDA). Mabbett holds a $15M cost-plus incentive fee five-year contract with MDA to provide worldwide environmental consulting and engineering support. The contract includes on-site environmental scientists and engineers in Huntsville, Alabama and Washington, DC area. Services include NEPA support, environmental compliance, environmental management system, and environmental program development for the Agency.
Army Public Health Center. Mabbett held a one year $2.3M firm fixed price contract to perform industrial hygiene consulting services at 15 US Army installations worldwide. Support included teams of industrial hygienist performing industrial hygiene surveys and assessments and loading the data into a DoD database.
US General Services Administration – National Capital Region (GSA-NCR). Since 2010, Mabbett has been serving GSA-NCR on multiple five-year IDIQ Industrial Hygiene & Environmental Services contracts. Hundreds of task orders have been completed including regulated building material surveys, asbestos abatement monitoring, environmental, health and safety audits, indoor air quality surveys, air permitting support, Child Development Center safety inspections, and a full range of other services in over 100 GSA owned buildings in metropolitan DC area.